Low density lipoprotein (LDL) in type 2 diabetes mellitus
Andyanita Hanif Hermawati

STIKes Hutama Abdi Husada Tulungagung

Eka Puspitasari

STIKes Hutama Abdi Husada Tulungagung

Cholila Lailatul Nurmala

STIKes Hutama Abdi Husada Tulungagung
Keywords:
Low Density Lipoprotein, Cholesterol, Type 2 Diabetes Mellitus
Abstract
Hyperglycemia due to abnormal insulin secretion, insulin work or both. Type 2 Diabetes Mellitus is the most among other types of diabetes mellitus. Diabetes mellitus is usually accompanied by dyslipidemia. Dyslipidemia is a disorder of lipid metabolism or cholesterol characterized by an increase or decrease in lipid fraction in the plasma. Diabetes mellitus and elevated Low-Density Lipoprotein (LDL) cholesterol levels are often found to be interrelated. The purpose of this study was to describe Low-Density Lipoprotein (LDL) levels in patients with type 2 diabetes mellitus. The research design used was descriptive non-analytic. The population in this study were all patients with type 2 diabetes mellitus using a purposive sampling technique of 30 samples. Data collection was carried out by observing the medical record data of type 2 diabetes mellitus patients with Low-Density Lipoprotein (LDL) profile data for 2017. The results showed that patients with type 2 Diabetes Mellitus suffered the most by male sex with a percentage of 57%, aged over 45 years with a percentage of 97%, and having high LDL levels as much as 40%.
Downloads
Download data is not yet available.
References
Hestiana, D. W. (2017). Faktor-Faktor yang Berhubungan dengan Kepatuhan dalam Pengelolaan Diet pada Pasien Rawat Jalan DIabetes Mellitus Tipe 2 di Kota Semarang. Journal of Health Education, 2(2), 138–145. DOI: https://doi.org/10.15294/jhe.v2i2.14448
Purwanti, N., Jirna, I. N., & Arjani, I. (2016). Analisis Hubungan Kadar Gula Darah Puasa dengan Kadar Kolesterol High Density Lipoprotein (HDL) pada Pasien Diabetes Mellitus Tipe 2 di RSUP Sanglah. Meditory, 4(1), 65–72. http://ejournal.poltekkes-denpasar.ac.id/index.php/M/article/view/38
Pearce, Evelyn C. (2010). Anatomi dan Fisiologi Untuk Paramedis. Jakarta: PT Gramedia Pustaka Utama
Ganong, W. F. (2009). Buku Ajar Fisiologi Kedokteran (22nd ed.). Jakarta: EGC.
Malaeny, C. S., Katuuk, M., & Franly Onibala. (2017). Hubungan Riwayat Lama Merokok dan Kadar Kolesterol Total dengan Kejadian Penyakit Jantung Koroner di Poliklinik Jantung RSU Pancaran Kasih Gmim Manado. E-Jurnal Keperawatan, 5(1), 1–7. https://ejournal.unsrat.ac.id/index.php/jkp/article/view/14669
Noviyanti, F., Decroli, E., & Sastri, S. (2011). Perbedaan Kadar LDL-kolesterol pada Pasien Diabetes Melitus Tipe 2 dengan dan tanpa Hipertensi di RS Dr. M Djamil Padang Tahun 2011. Jurnal Kesehatan Andalas, 4(2), 545–550. http://jurnal.fk.unand.ac.id/index.php/jka/article/view/297
Faradhita, A., Handayani, D., & Kusumastuty, I. (2014). Hubungan Asupan Magnesium Dan Kadar Glukosa Darah Puasa Pasien Rawat Jalan Diabetes Mellitus Tipe 2 (Correlation Between Magnesium Intake And Fasting Blood Glucose Level In Outpatients With Type 2 Diabetes Mellitus). Indonesian Journal of Human Nutrition, 1(12), 71–88. https://ijhn.ub.ac.id/index.php/ijhn/article/view/104
Aritrina, P., Marzuki, A., & Mangarengi, F. (2016). Analisis Kadar Kolesterol Low Density Lipoproteinsebagai Faktor Risiko Komplikasi pada Pasien Diabetes Melitus Tipe 2. Jurnal Medula, 4(1), 291-295 http://ojs.uho.ac.id/index.php/medula/article/view/2556
Kemenkes RI. 2014. Profil Kesehatan Indonesia. Jakarta: Kementerian Kesehatan Republik Indonesia
Nursiswati, Rafyah, I., & Sutini, T. (2014). Pemberdayaan Kader Kesehatan Dalam Program " Self Care Management" Penderita Diabetes Melitus Di Desa Mekarwangi Dan Bendungan Kecamatan Pagaden Barat Kabupaten Subang. Jurnal Aplikasi Ipteks Untuk Masyarakat, 3(1), 13–15. DOI: https://doi.org/10.24198/dharmakarya.v3i1.8305
Yani, M. (2015). Mengendalikan Kadar Kolesterol Pada Hiperkolesterolemia. Jurnal Olahraga Prestasi, 11(2), 3–7. DOI: https://doi.org/10.21831/jorpres.v11i2.5749
Malik, M. A., Mewo, Y. M., & Kaligis, S. H. . (2013). Gambaran Kadar Kolesterol Total Darah Pada Mahasiswa Angkatan 2011 Fakultas Kedokteran Universitas Sam Ratulangi Dengan Indeks Massa Tubuh 18,5-22,9 kg/m2. Jurnal E-Biomedik (EBM), 1(2), 1008–1013. DOI: DOI: https://doi.org/10.35790/ebm.1.2.2013.3310
Utami, N. K. N., Subawa, A. A. N., & Yasa, I. W. P. S. (2017). Tingginya Kadar Low Density Lipoprotein ( Ldl ) Dan Trigliserida Pada Kejadian Diabetic Foot Ulcer ( Dfu ) Di Rumah Sakit Umum Pusat Sanglah Periode Januari-Desember 2014. E-Jurnal Medika Udayana. 6(2), 1–6. https://ojs.unud.ac.id/index.php/eum/article/view/28955
Fatimah, R. N. (2015). Diabetes Melitus Tipe 2. Journal Majority, 4(5), 93–101. http://juke.kedokteran.unila.ac.id/index.php/majority/article/view/615
Hakim, Buraerah H; Abdullah, A. Zulkifli; Hanis, M. (2009). Analisis Faktor Risiko Diabetes Melitus Tipe 2 di Puskesmas Tanrutedong, Sidenreng Rappang. Jurnal Kedokteran Indonesia, 35(4), 228. https://lib.atmajaya.ac.id/default.aspx?tabID=61&src=a&id=186192
Ekpenyong CE, Akpan UP, Ibu JO, Nyebuk DE. (2012). Gender And Age Specific Prevalence And Associated Risk Factors Of Type 2 Diabetes Mellitus In Uyo Metropolis, South Eastern Nigeria. Diabetologia Croatica 41-1, 17-28. http://www.idb.hr/diabetologia/sitemap.html
Wijanarko, S. I., Herawati, S., Agung, A., & Subawa, N. (2018). Lipoprotein (LDL) Pada Diabetes Mellitus Tipe 2 dengan Hipertensi serta Tanpa Hipertensi di RSUP Sanglah Denpasar, Bali. E-Jurnal Medika Udayana, 7(3), 117–120. https://ojs.unud.ac.id/index.php/eum/article/view/38052
Al-alwi, Amur Sulaiman. (2014). Serum Lipid Profile And Glycated Hemoglobin Status In Omani Patients With Type 2 Diabetes Mellitus Attending A Primary Care Polyclinic. Biomedical Research, 25(2),161-166.
Aderibigbe, Mary Alaba., et al. (2018). Effects of gender, age and treatment duration on lipid profile and renal function indices in diabetic patients attending a teaching hospital in South-Western Nigeria. African Health Science, 18(4): 900–908 DOI: https://doi.org/10.4314/ahs.v18i4.8
PERKENI. (2011). Konsensus Pengelolaan dan Pencegahan Diabetes Mellitus Tipe 2 di Indonesia. Jakarta: Perkeni.
Suyono S. (2009). Patofisiologi Diabetes Melitus Dalam Penatalaksanaan Diabetes Melitus Terpadu. Jakarta: Balai Penerbit FKUI.
Meidikayanti, W., & Wahyuni, C. U. (2017). Hubungan dukungan keluarga dengan kualitas hidup Diabetes Melitus Tipe 2 Di Puskesmas Pademawu. Jurnal Berkala Epidemiologi, Volume 5 N(July), 240–252. DOI: https://doi.org/10.20473/jbe.v5i2.2017.240-252
Tun, Nyo Nyo., et al. (2017). Diabetes Melitus and Stroke: a Clinical Update. World Journal Diabetes, 8(6): 235–248. DOI: https://doi.org/10.4239/wjd.v8.i6.235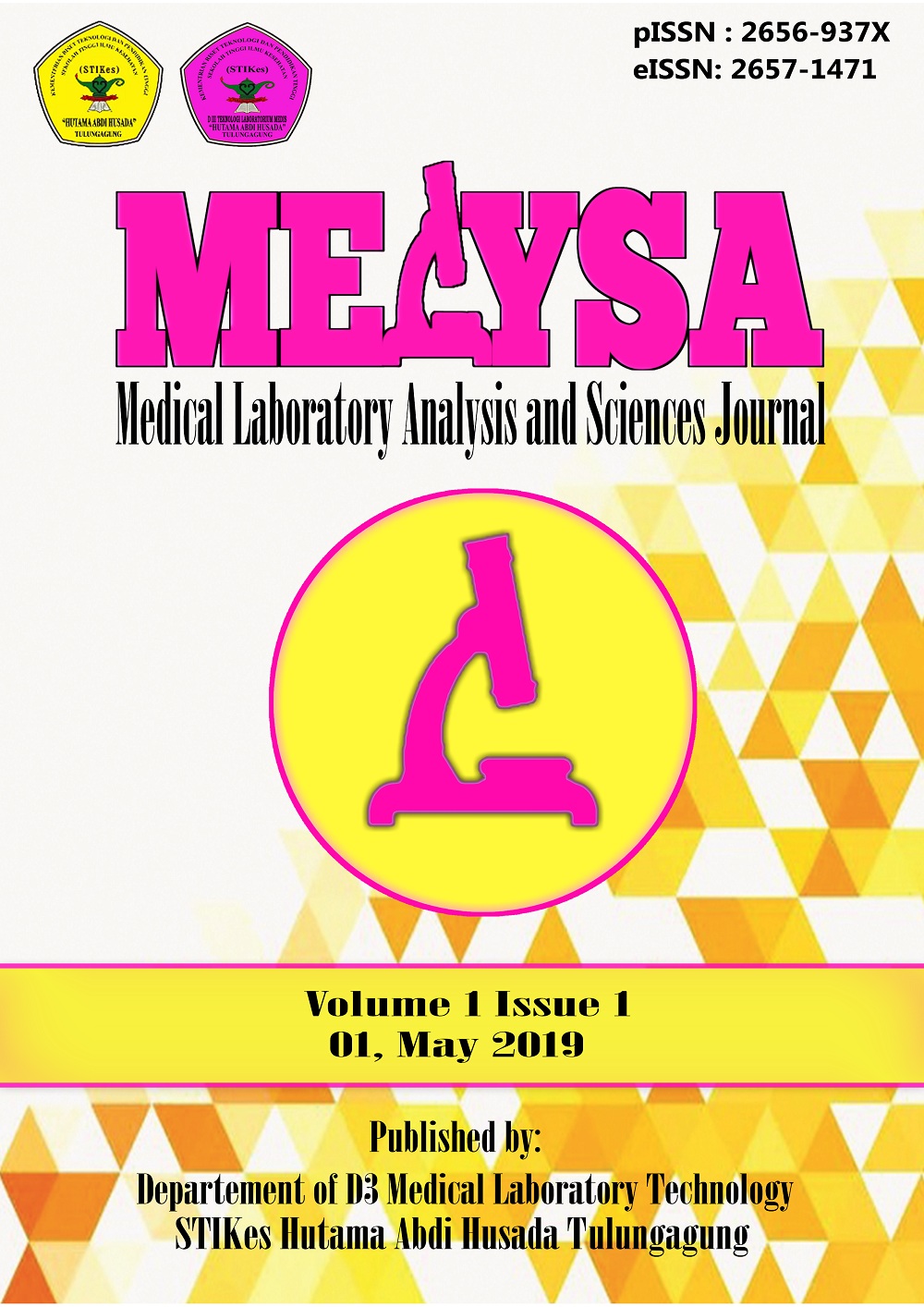 How to Cite
Hermawati, A. H., Puspitasari, E., & Nurmala, C. L. (2019). Low density lipoprotein (LDL) in type 2 diabetes mellitus. Medical Laboratory Analysis and Sciences Journal, 1(1), 25-29. https://doi.org/10.35584/melysa.v1i1.19
Copyright (c) 2019 Author
This work is licensed under a Creative Commons Attribution-ShareAlike 4.0 International License.

Authors retain copyright and grant the journal right of first publication with the work simultaneously licensed under a Creative Commons Attribution-ShareAlike 4.0 International License that allows others to share the work with an acknowledgment of the work's authorship and initial publication in this journal.

Abstract viewed = 488 times PDF downloaded = 223 times