Blood calcium levels in factory workers who consume supplements drinks
Chalies Diah Pratiwi

STIKes Hutama Abdi Husada Tulungagung

Hariyanto Hariyanto

STIKes Hutama Abdi Husada Tulungagung

Amelia Rahma Perdana Putri

STIKes Hutama Abdi Husada Tulungagung
Keywords:
Blood Calcium, Supplements, Drinks Workers
Abstract
Energy supplement drinks are drinks that contain caffeine, taurine, sweeteners, and other substances that have the effect of increasing energy, concentration, alertness, maintaining physical strength, and reducing drowsiness. Blood calcium is an important mineral that the body needs. The purpose of this study was to determine blood calcium levels in marble factory workers in Besole Village, Tulungagung Regency. The research design used was Analytical Descriptive. The population in this study were all marble factory workers who routinely consumed energy supplement drinks in the village of Besole in 2018 using a total sampling technique of 30 respondents. This research was conducted at the Laboratory of Dr. Iskak Tulungagung in May 2018 using the O-CPC method. The results obtained from the examination of blood calcium in marble factory workers showed 10 respondents (33%) had blood calcium levels within normal limits, 17 respondents (57%) had deep blood calcium levels. low limit and 3 respondents (10%) had very low blood calcium levels. Consumption of energy supplement drinks that exceed the threshold can damage the kidneys and affect blood calcium levels because the caffeine content in energy supplements can increase the release of calcium in the bones so that more calcium is released through the urine.
Downloads
Download data is not yet available.
References
Putra, N. A. R. S. N., Sulistyaningsih, E., & Firdaus, J. (2017). Pengaruh Pemberian Niasin dan Kafein dalam Model Minuman Berenergi terhadap Fisiologi Hati Tikus Wistar Jantan (The Effect of Caffeine and Niacin Administration within Energy Drink Model towards Liver Physiology of Male Wistar Rat ). 5(3), 517–524.
Prasetyaning, U., Andari, D., & Agustini, S. (2018). Pengaruh Pemberian Minuman Berenergi Subakut Terhadap Gambaran Histologi Ginjal Tikus Putih Strain Wistar. Saintika Medika, 9(1), 46. DOI: https://doi.org/10.22219/sm.v9i1.4125
Malinauskas, B. M., Aeby, V. G., Overton, R. F., Carpenter-Aeby, T., & Barber-Heidal, K. (2007). A survey of energy drink consumption patterns among college students. Nutrition Journal, 6, 1–7. DOI: https://doi.org/10.1186/1475-2891-6-35
Seifert, S. M., Schaechter, J. L., Hershorin, E. R., & Lipshultz, S. E. (2011). Health Effects of Energy Drinks on Children, Adolescents, and Young Adults. Pediatrics, 127(3), 511–528. DOI: https://doi.org/10.1542/peds.2009-3592
Rahman, D. (2018). Asam Laktat Saat Melakukan Aktifitas Fisik Pada Mahasiswa Ilmu Keolahragaan 2016. 2, 1–10.
Suryaningsih, S., Said, I., & Rahman, N. (2019). Analisis Kadar Kalsium (Ca) dan Besi (Fe) dalam Kangkung Air (Ipomeae aquatica forsk) dan Kangkung Darat (Ipomeae reptan forsk) Asal Palu. Jurnal Akademika Kimia, 7(3), 130. DOI: https://doi.org/10.22487/j24775185.2018.v7.i3.11908
Harini, I. M., Novara, T., Histologi, B., Kedokteran, F., Jenderal, U., & Purwokerto, S. (2018). Perbedaan Kadar Kalsium Darah pada Kehamilan Preeklamsia dengan Kehamilan Normotensi Differences in Blood Calcium Level between Preeclampsia and Normotensive Pregnancies. 30(2), 109–113. DOI: http://dx.doi.org/10.21776/ub.jkb.2018.030.02.6 109
Amran, P. (2018). Analisis Perbedaan Kadar Kalsium (Ca) Terhadap Karyawan Teknis Produktif Dengan Karyawan Administratif Pada Persero Terbatas Semen Tonasa. Media Analis Kesehatan, 1(1), 1–7. DOI: https://doi.org/10.32382/mak.v1i1.121
Purdiani, M. (2014). Hubungan Penggunaan Minuman Berkafein Terhadap Pola Tidur Dan Pengaruhnya Pada Tingkah Laku Mahasiswa/I Universitas Surabaya Monica Purdiani. Calyptra: Jurnal Ilmiah Mahasiswa Universitas Surabaya, 3(1), 1–15.
Whalen, D. J., Silk, J. S., Semel, M., Forbes, E. E., Ryan, N. D., Axelson, D. A., Dahl, R. E. (2008). Caffeine consumption, sleep, and affect in the natural environments of depressed youth and healthy controls. Journal of Pediatric Psychology, 33(4), 358–367. DOI: https://doi.org/10.1093/jpepsy/jsm086
Hastedt, M. (2014). R. C. Baselt (ed.): Disposition of toxic drugs and chemicals in man, 10th edition. Forensic Science, Medicine, and Pathology, 11(1), 147–147. DOI: https://doi.org/10.1007/s12024-014-9602-3
Puspitasari, P., & Kusnadi, D. (2015). Hubungan Antara Konsumsi Minuman Berenergi Yang Mengandung Kombinasi Taurin Dan Kafein Dengan Angka Kejadian Gagal Ginjal Kronis Pipit. 3, 54–61
Suharjono, Z., Izzah, M., Rindang, A., Setya, A., & Rahmadi, D. M. (2015). Efek Kronis Minuman Berenergi pada Ginjal. Jurnal Farmasi Indonesia, 7(4), 252–257
Rahmawati, A. Herlisa, J. (2012). "Gambaran Kadar Kalsium Darah Pada Pria Peminum Kopi." Retrieved from http://digilib.unimus.ac.id/files//disk1/139/jtptunimus-gdl-henyayurah-6943-1-ringkasan.pdf
Gandasoebrata R. (2013). Penuntun Laboratorium Klinis. Jakarta. Dian Rakyat
Rohimah, S., & Kurniasih, E. L. I. (2015). Gambaran Kalsium Darah Pada Perokok. Jurnal Kesehatan Bakti Tunas Husada, 13, 213–227.
Putriastuti, R., Kustiyah, L., & Anwar, F. (2017). Persepsi, Konsumsi Dan Preferensi Minuman Berenergi. Jurnal Gizi Dan Pangan, 2(3), 13. DOI: https://doi.org/10.25182/jgp.2007.2.3.13-25
Dewanti-hariyadi, L. N. R. (2001). Pangan Tradisional Sebagai Basis Industri Pangan Fungsional & Suplemen. Retrieved from http://seafast.ipb.ac.id/publication/prosiding/06_rd.pdf
Waluyo, S. 2010.100 Questions&Answers: Menopause atau Mati Haid, Jakarta: PT. Elex Media Komputindo.
Eka Susanti, I Dewa Putu Pramantara, R. P. (2009). Asupan, kalsium, vitamin D, Kafein, merokok, indeks massa tubuh dan hubungannya dengan kejadian osteoporosis pada pria di kecamatan Duren Sawit, Jakarta Timur. p. Vol 6, No 2. DOI: https://doi.org/https://doi.org/10.22146/ijcn.17710
Yusni, Amiruddin. (2015). Pemenuhan Kebutuhan Kalsium Dan Besi Atlet Sepak Bola Juniorbanda Aceh. Sport Pedagogy Vol., 5(2), 1-4. DOI: https://doi.org/10.1145/3132847.3132886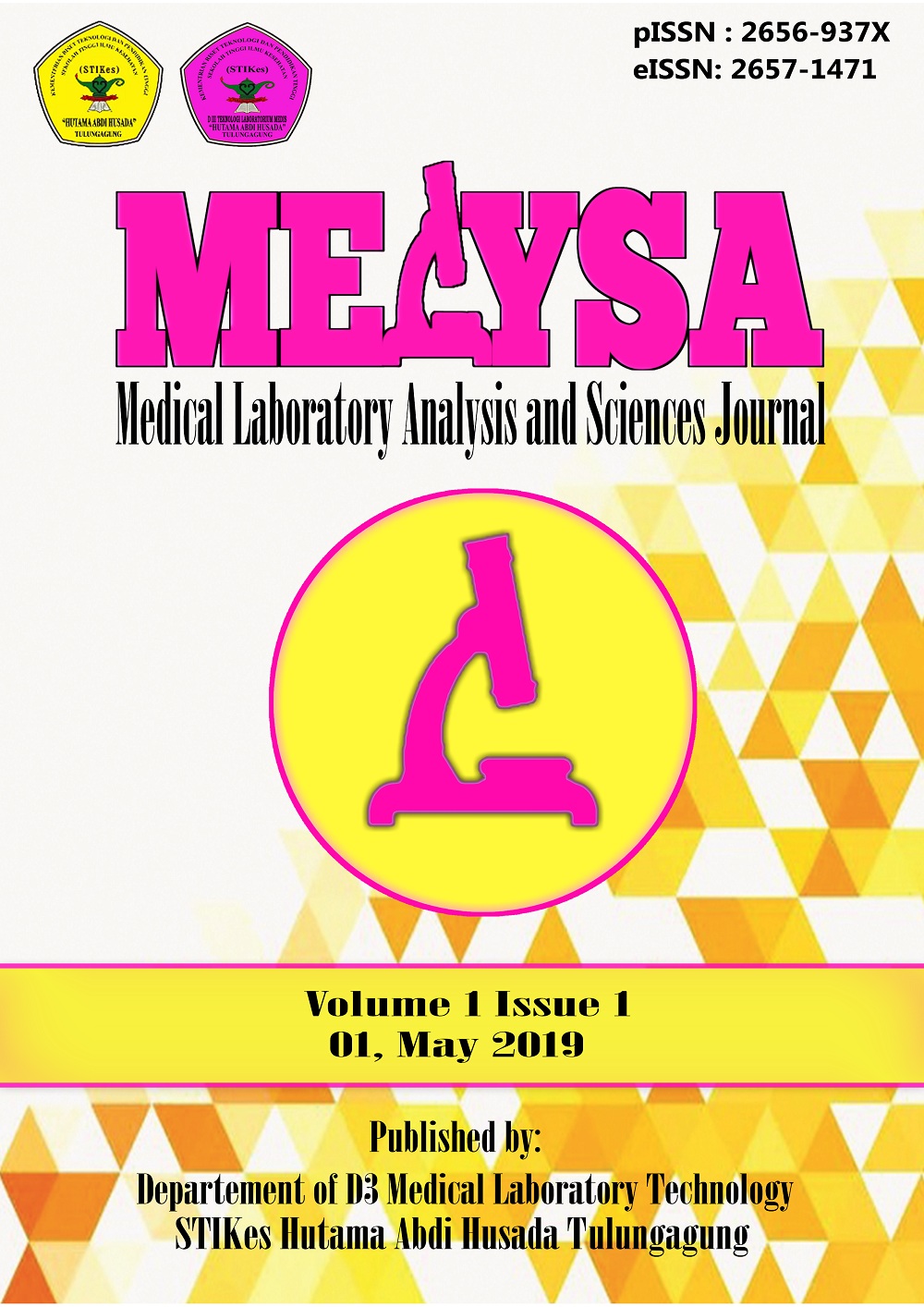 How to Cite
Pratiwi, C. D., Hariyanto, H., & Putri, A. R. P. (2019). Blood calcium levels in factory workers who consume supplements drinks. Medical Laboratory Analysis and Sciences Journal, 1(1), 13-18. https://doi.org/10.35584/melysa.v1i1.17
Copyright (c) 2019 Author
This work is licensed under a Creative Commons Attribution-ShareAlike 4.0 International License.

Authors retain copyright and grant the journal right of first publication with the work simultaneously licensed under a Creative Commons Attribution-ShareAlike 4.0 International License that allows others to share the work with an acknowledgment of the work's authorship and initial publication in this journal.

Abstract viewed = 428 times PDF downloaded = 484 times